In a vast expanse of desert and drought-ridden plains of Rajasthan, Mount Abu takes pride in being the only hill station. It lies in the Aravalli Mountain range at the border of Rajasthan and is considered a great spot for pilgrimage, apart from being a major tourist attraction courtesy its location.
#Dilwara Jain Temples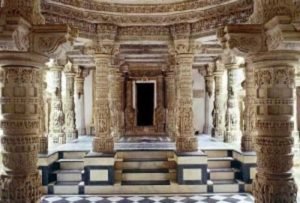 With its intricate marble artwork, ornamental carvings, flawless stone laying technique, & smooth sculptures, the Dilwara Jain Temples in Mount Abu are sure to leave one awestruck. Built in 11th and 13th century AD, the temple consists of a complex series of 5 Jain temples under it, namely Vimal Vasahi, Luna Vasahi, Pithalhar, Khartar Vasahi, & Mahavir Swami. Its unique architecture and mesmerizing outlay make it one of the most attractive tourist places in Mount Abu and a must-visit spot for pilgrims.
#Nakki Lake
Believed to have been dug out by the Gods themselves, the clear blue water of the lake turns into amazing shades under the changing sky. Nakki lake is a very special place to visit in Mount Abu owing to the fact that Mahatma Gandhi's ashes were immersed here. The lake is surrounded by plenty of eating joints catering to every type of visitor.
#Peace Park
This serene establishment is a part of the Brahma Kumaris spiritual abode and among the essential places to visit in Mount Abu for those looking for an escape from the stressful city life. People come to Pe
ace Park to surrender themselves to its calm environment and indulge in meditation. In addition to meditation, the park is also a great spot for a variety of activities and offers immense natural beauty. One must explore the park via a guided tour in order to ensure that they do not miss out on capturing the true essence of this place.
#Mount Abu Wildlife Sanctuary
Home to leopards, the ferocious feline predators, this subtropical paradise is known for its huge variety of flora and fauna. The vegetation cover at this lush green paradise consisting of sub-tropical thorn forests in the foothills and subtropical evergreen forests along the higher altitudes houses a plethora of rare and endangered species of animals and around 250 species of birds. With so much to explore, the Mount Abu Wildlife Sanctuary is among the best places to visit in Mount Abu.
#Guru Shikhar Peak
The Guru Shikhar Peak, located inside the Mount Abu Wildlife Sanctuary, is the highest peak in the entire Aravalli Mountain Range and in Mount Abu. Offering breathtaking panoramic vistas of the surrounding region, Guru Shikhar is among the most favoured tourist places in Mount Abu. While here, one can also visit the famous temple of Guru Dattatreya, who was believed to be an incarnation of the Hindu deities Brahma, Vishnu and Shiva, all in one.
During the local activities, hire a local taxi from Jodhpurtaxiwala.com on affordable price whether for a solo trip or group travel. For your beauteous recreation, it would be easier to explore all your desired locations by taxi booking in Jodhpur. By getting a full day taxi, the travel would have become much recreational. Now the travel would be interesting with no break rental activities.
"Jodhpur Taxi Wala" One of the best taxi service in Jodhpur. We are providing the best self-guided and affordable price taxi and visit top places in Jodhpur. Hurry up! This month very enjoy with friends and visit Rajasthan. Jodhpur Taxi Service provides the best affordable Jodhpur visiting tour package with Car Rental in Jodhpur. We are providing the best car rental service in Jodhpur for more details contact us +91 9929581058